WORKSHOP: Xpace Presents - DJ Workshop with ANA LUISA
Nov 27, 2021 | 2:00 - 5:00 p.m. (To)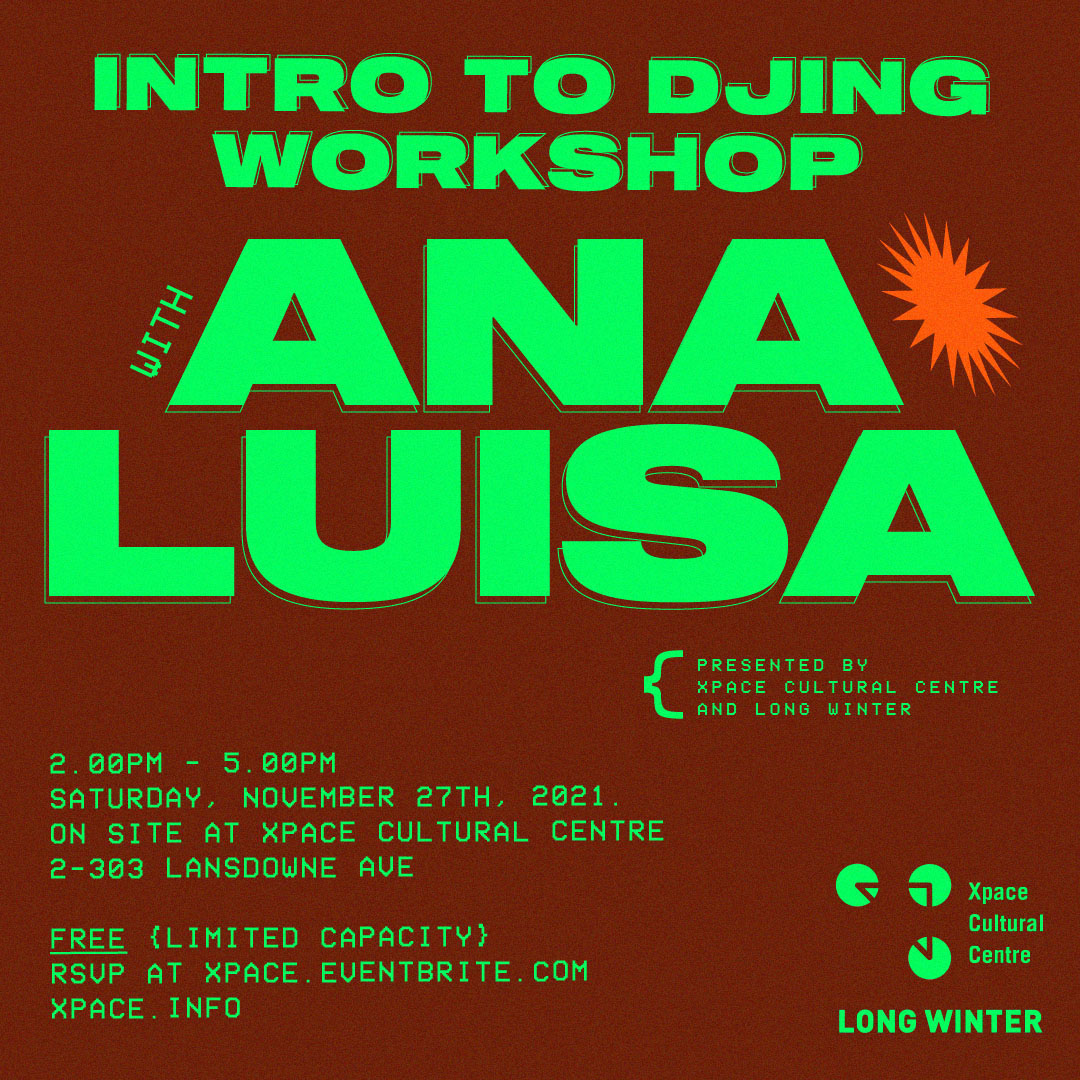 With Xpace, ANA LUISA.
This introductory DJ workshop is aimed for folks with little to no experience in the craft of DJing, or music in general, but who wish to learn in a safe setting. Participants will be introduced to Rekordbox using a laptop controller, and will learn basic terms and techniques such as BPM, Key, beatmatching and EQing. During the last hour of the workshop participants will have an opportunity to practice!
Please note that no previous knowledge is required to join, and that we are prioritizing registration from folks that are susceptible to experiencing significant barriers when accessing the industry, including but not limited to: misogyny, racism, ableism, transphobia, queerphobia and financial barriers.
ANA LUISA grew up getting down in house parties, clubs and minitecas in Caracas, Venezuela, and started DJing two years ago in Tkaronto (Toronto), where she's now based. Her music selection is eclectic and genre-bending, and she is known for her energetic sets that blend latin genres and rhythms with electrifying underground remixes, percussive club masterpieces and bouncy edits of your favourite nostalgic tracks. She is the co-founder of Cuarenteca, a party series and education platform, as well as the host of Dimensión Ideal: a monthly show on ISO Radio exploring the intersection of latin & electronic music in the underground, and highlighting emerging DJs from Latin America, the diaspora, and Tkaronto.
Xpace Cultural Centre, 303 Lansdowne Ave Unit 2, Toronto, ON M6K 2W5
WORKSHOP: Xpace DJ Workshop
Back to Calendar